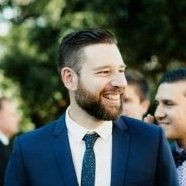 Hi, my name is Liam
I am a motivated, recently qualified horticulturist with a unique skill set.
I've spent the past two years learning the basics of the industry while completing my Diploma of Horticulture.
Prior to this, I spent ten years in communications roles in the NGO sector and three years freelancing in the film and TV world.
I'm driven to try to make the world a better place, even in small ways, through my work.
Contact me

Selected horticulture experience
Nursery Hand
2018-current
Diploma of Horticulture
Melbourne Polytechnic, 2018-19
Memberships
SGA Green Gardening Professionals member, 2019-current
Volunteering
Melbourne International Flower and Garden Show 2018-19
Selected motion picture experience
2016
Rosehaven S1
ABC TV
May 2016 - July 2016
Data Wrangler - Post Production (Editorial)
Arri Alexa Classic, Arri Alexa Mini
Rental prep technician
Lemac Film and Digital
June 2015 - May 2016
Specialist experience with hi-speed camera operation and livestreaming operation.
A range of Arri, RED, Sony, Phantom, Canon, and Blackmagic kits, digital cinema, lighting, and grip essentials.
2015
Silence
Independent short film
November 2015
First Assistant Camera to DP Matthew Jenkins, 2AC to 1AC Stepanka Cervinkova
Arri Alexa Classic
My New Colours
Independent short film
October 2015
First Assistant Camera to DP Daniel Gallagher, 2AC to 1AC Corydon Anderson
Arri Alexa Classic
The Narrator
Clones and Clones / Low Talk
August 2015
Director of Photography with Director Thomas Hyland
Blackmagic Cinema
Traffik - TV series pilot
Independent
June 2015
Second Assistant Camera to 1AC Brendan Cherry and DP Mark Kenfield
Sony F5
Little Creature
Umbershoot / The Wisps
April 2015
First Assistant Camera to DP Felicia Smith, Gaffer
Panasonic GH4
1,2 Step
Umbershoot / The Marruk Project
March 2015
Second Assistant Camera to 1AC Felicia Smith and DP Brian Cohen
Panasonic GH4
Web series - Trading Places
The New Daily
January 2015
Camera Operator, Sound Recordist, Editor
Canon 5DmkII
2014
The Kettering Incident
Foxtel / BBC Worldwide
August 2014 – December 2014
Data Wrangler - Post Production (Editorial)
Arri Alexa Classic
Nomad Chef: Peru and Faroe Islands
Chemical Media / Discovery Channel
June 2014 – July 2014
Data Wrangler - Post Production
Short film - Psychotherapy
Independent
July 2014
Second Assistant Camera to 1AC Felicia Smith and DP Quinten Robertson
RED Epic
Web series - Funemployed
Justin Heazelwood / ABC Radio National
Ongoing throughout 2014
Camera Operator
Canon 5DmkII
Harry music video
Umbershoot / Manny Fox
June 2014
First Assistant Camera to DP Felicia Smith, Data Wrangler, Pre-Producer
Canon 5DmkIII
Short film - Rollerama
Personal project
April 2014
Director, Camera Operator, Editor
Canon 5DmkII
My View From Here
Umbershoot / Darebin Arts
March 2014
Camera Operator, Editor
Various cameras
Transition music video
Umbershoot / Major Chord
March 2014
First Assistant Director to Directors Brian Cohen and Nassiem Valamanesh, Data Wrangler
Canon C300
On and On music video
Lincoln le Fevre
February 2014
Director, Camera Operator, Editor
Canon 5DmkII
2013
Medicine can help or harm
Australian Volunteers International / AusAID
January 2013
Camera Operator, Sound Recordist, Producer
Canon 5DmkII
Sweet dreams
Australian Volunteers International / AusAID
January 2013
Camera Operator, Sound Recordist, Producer
Canon 5DmkII
Exhibitions
2012
Women in Punk and Hardcore (with Ada Conroy), Gas Gallery, Melbourne
Unsensored 12 group show, Collingwood Gallery, Melbourne
2011
Poison City Weekender Art Show group show, Melbourne
Unsensored 11 group show, Collingwood Gallery, Melbourne
2010
Unsensored 10 group show, Collingwood Gallery, Melbourne
2009
Picture This group show, Brunswick St Gallery, Melbourne (highly commended)
For Reasons of our Own group show, Scum Fighter Gallery, Hobart
Featured
Smith Journal
Melbourne Silver Mine
Melbourne Street
Milk and Miel